Welcome to the IAMC!
We are an independent group of enthusiasts, linked by a shared love of Italian two- and four-wheeled vehicles. Many Italian car and bike clubs do not have enough members in particular areas to make local meetings and social activities viable, but by getting together such events become possible - and even more interesting!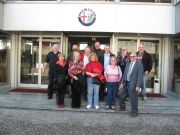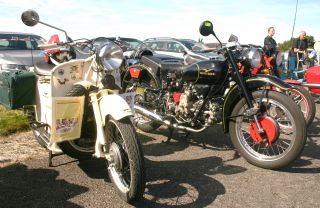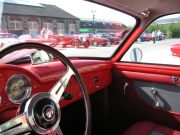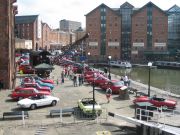 News and information about IAMC events, festivals and meetings.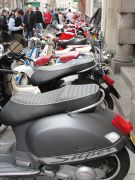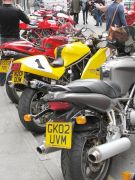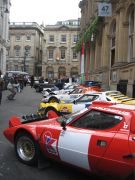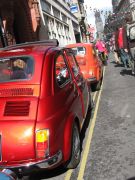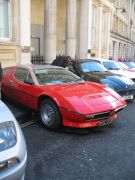 Devizes Italian Automoto Festival - Saturday 15th July 2023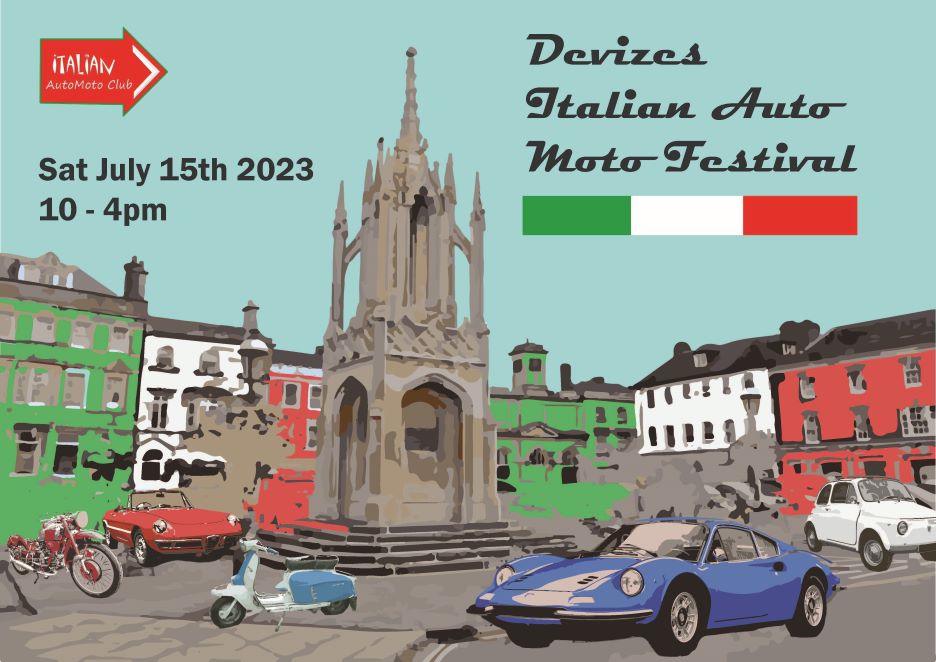 We were really pleased that the first Devizes Italian Automoto Festival went off so well last year, and that the people of Devizes came out and enjoyed the show in such glorious sunshine. We are looking forward to doing the same thing all over this year, except we will now have a greater area in the central market square, allowing more space for bikes and scooters in particular. We hope to see the event grow with more space, more vehicles, and additional food and traders stands.
A video of last years event is available here.
As is usual for our events, we ask for a small contribution of £10 in advance in order to secure your space. Once event costs have been covered, we will donate the balance to a local charity. There is of course no fee to come and view the show and enjoy the day as a pedestrian.
If you would like to join the vehicle display in the Market Squae please email enquiries@italianautomotoclub.co.uk with vehicle details and registration.
Bridgnorth Italian Automoto Festival - Sunday 10th Sept 2023
We are happy to confirm that we are back in Bridgnorth on Sunday 10th September. The popularity of this event goes from strength to strength, but it is absolutely one of our favourite days.
We will open this event for registration very shortly.
Here is a taster video from last years event: Bridgnorth Video
Cosford Italian Automoto Festival - Sunday May 21st 2023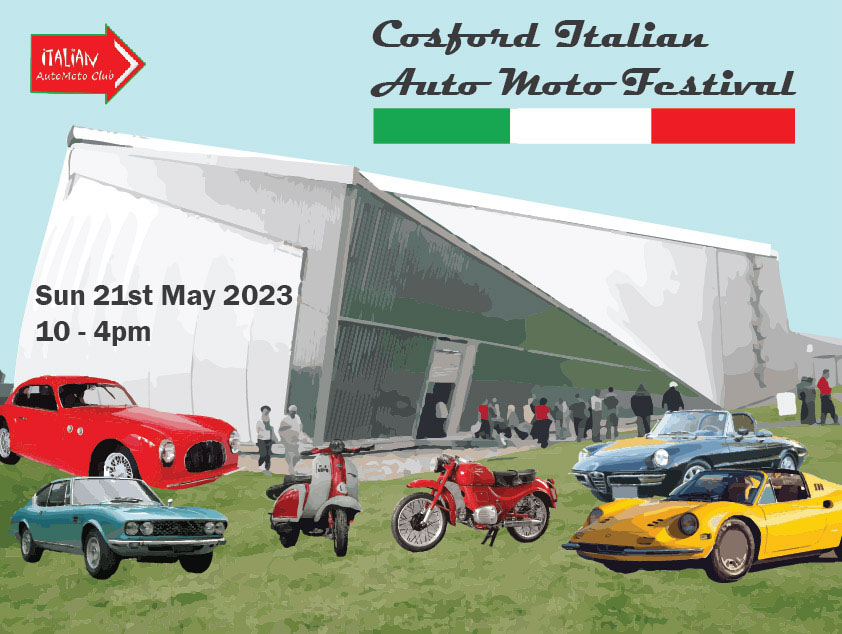 We returned to RAF Museum at Cosford on 21st May, hoping that we could repeat the "Italian Wings and Wheels" event in September 2020. Luckily we were not disappointed, as the sun shone and a glorious collection of cars and bikes assembled amongst the aircraft at the bottom of the museum site. There were so many fantastic Italian vehicles to see, and friends old and new to chat to, that there was scarcely time to visit the Aircraft Museum. A great day was had by all!
The charity supported was the Midlands Air Ambulance, and thanks to our participants we were able to make a substantial donation to them. Maria Jones from Midlands Air Ambulance was invited to select the Car Of The Day, and Maria chose the delightful 1937 Fiat Topolino of Jacqui Kowalewsky. Congratulations to Jacqui!
Here's a nice video of the 2020 event as a reminder.
Chesham Italian Automoto Festival - Sunday May 28th 2023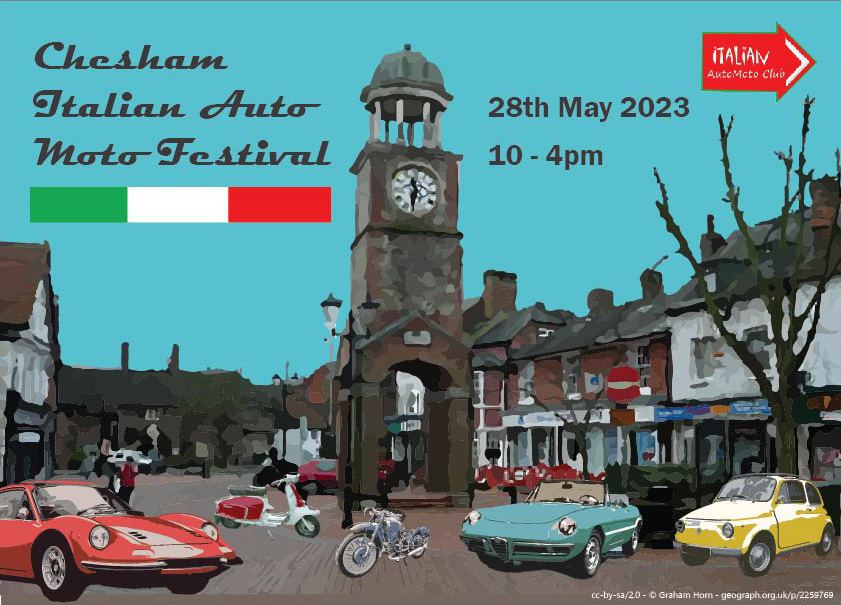 We were not sure how the first Chesham Italian Auto Moto Festival would turn out, but the interest amd enthusiamd from the local public, the quality and variety of exhibitors, the setting, all surpassed our expectations!
The sun shone, and a spectacular range of Italian machinery arrived to fill the entire length of Chesham High Street with focus points at Market Square and the War Memorial. The bike zone was particularly memorable, with an outstanding display of MV Augustas, Ducatis and others.
The Car Of The Day, as chosen by Rachael Matthews, Head of Chesham Regeneration, was the spectular Ferrari F40 of Nigel and Shirley Chiltern Hunt, which had attracted ceasely admiration all day from enthusiasts of all ages!
We hope that this event can become a permanent part of the Italian vehicle calendar.
Entering IAMC Events
The IAMC no longer operates as a subscription-based club, and we therefore need to charge an entrance fee for events, in order to cover the costs of running the club, and putting on each event. We do not make a profit, and once costs have been covered, we make a donation to a charity local to the event. This might be a local food bank, a charity selected by the local council or mayor, or something like the Midlands Air Ambulance. We may also ask entrants to additionally bring a food donation for the local food bank.
If you are interested in exhibiting a vehicle at any of the events above, please forward vehicle details (and the event you would like to enter!) to enquiries@italianautomoclub.co.uk. We will confirm acceptance of your vehicle (the criteria is that vehicles should be presentable and interesting !), and would request that payment is made via Paypal or BACS. The entrance fee is generally £10 per vehicle (car, bike or scooter), but some events may vary according to local requirements.
Looking forward to seeing you at one of the IAMC events in 2023 !
Jeremy Dutton, David Morris, Colin Rear


Bristol Italian AutoMoto Festival
We regret to confirm that there will be no BIAMF in the near future. Changes to the physical infrastructure around Corn Street, as well as organisational and commercial challenges have made this a harder and harder event to organise, and it seems unlikely that we would be able to stage it in its previous format.

The Club organises various events during the year. Our aim is to organise Italian Vehicle festivals in interesting and unusual locations, from town centres, to museums or docside location. For many years we staged the major Bristol Italian AutoMoto Festival , before local restrictions made the event unviable. We have also staged events in Swindon, Gloucester, Bridgnorth and Cardiff, and we are presently branching further afield. We are dependant on support from a small but dedicated band of volunteers and assistants, who give time and effort to marshall events.
Tribute must be paid to our founding member Paul Hanmore who is sadly no longer with us, but we remember his irrepressible spirit with every event that takes place.
For details of what we have done and have planned please see our Archive pages. We have an interesting past and a busy future, so why not join us at ones of our events?